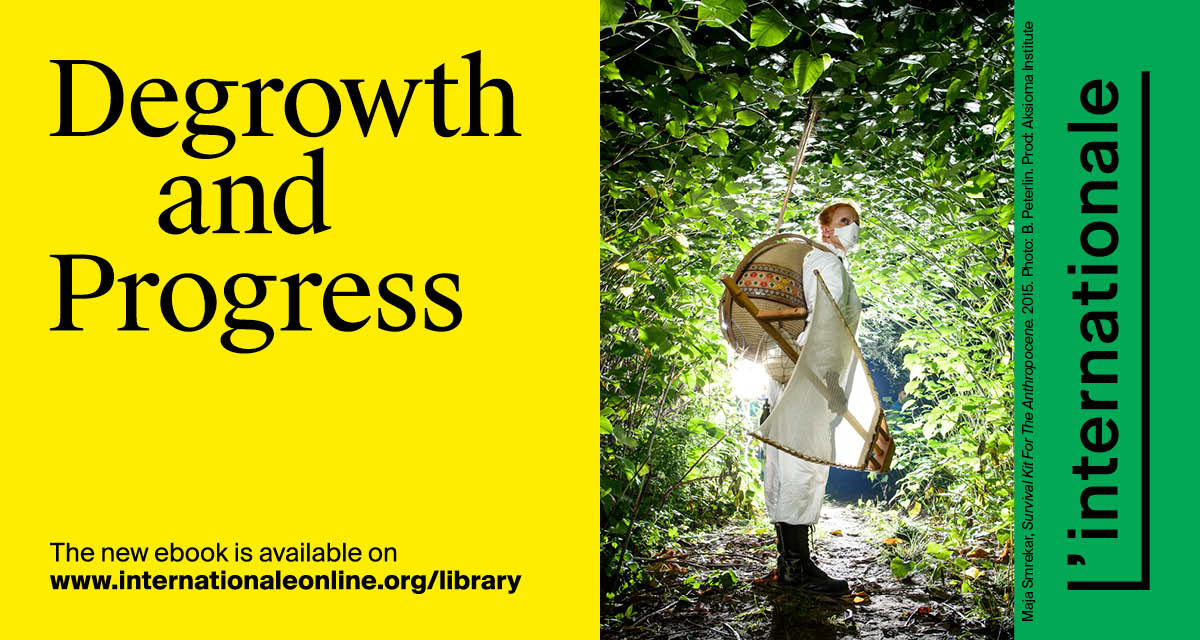 Maja Smrekar, Survival Kit For The Anthropocene – Trailer, 2015. Photo from an installation. Photo: Borut Peterlin. Design and architecture collaboration: Andrej Strehovec. Production: Aksioma Institute.
L'Internationale Online launches its newest e-publication, Degrowth and Progress. Following the e-publication Austerity and Utopia, we present a second collection of interventions to think through two apparently distant concepts. Artists, thinkers and researchers were invited to reflect on a dissimilar pair of themes as fertile ground for thought and proposition.
Degrowth and Progress is creating a polyphonic approach to some of the challenges and threats of our present times. This collection draws upon the complexity of ethical, ecological and political frameworks and reveals other perspectives on the current crisis through critical essays, storytelling, science fiction, biomorphic design, audiovisual traces of artistic practices and allegorical maps.

Contributors: Sara Buraya Boned, Cristina Cámara, Marta Echaves, Silvia Federici, Ida Hiršenfelder, Vladan Joler, Vincent Liegey, Monica Narula, Nataša Petrešin-Bachelez, Corina Oprea, Paula Pin Lage, Ajda Pistotnik.

Presenting works by: Rosa Barba, nora chipaumire and Ari Marcopoulos, Vladan Joler, Staš Kleindienst, Elizabeth LaPensée, Paula Pin Lage, Raqs Media Collective, Maja Smrekar, Andrés Tena.
This e-publication also contains works from the collections of the museums of L'Internationale. On this occasion, we will present last-year acquisition, a painting by Staš Kleindienst A Landscape with Stray Dogs (2019) from the collection of Moderna galerija, Ljubljana, and the online screening programme will show The Empirical Effect (2010) by Rosa Barba from the collection of Museo Reina Sofía. The limited online screening will also include a recording of the performance #PUNK 100%POP N!IGGA (2018) by nora chipaumire and Ari Marcopoulos a self documentary video produced for this e-publication by transfeminist artist and researcher Paula Pin Lage, Degrowth makes me grow (2021), and between 17 February and 17 April 2021.

L'Internationale Online is the platform for research, resources and art, launched in 2014 by the museum confederation L'Internationale and currently managed by HDK-Valand Art Academy, operating within the framework of the four-year programme Our Many Europes.
We kindly invite you to subscribe to L'Internationale Online news channel before the launch of the upcoming ePub and a letter with our latest contributions: opinions, ePubs, online screening programmes once every three months.

L'Interantionale Online is a part of a four-year programme Our Many Europes led by L'Internationale confederation of museums with its partners Valand Academy (University of Gothenburg) and National College of Art and Design Dublin. Supported by the Creative Europe Programme of the European Union, Ministry of Culture of the Republic of Slovenia and Igor Zabel Association for Culture and Theory.