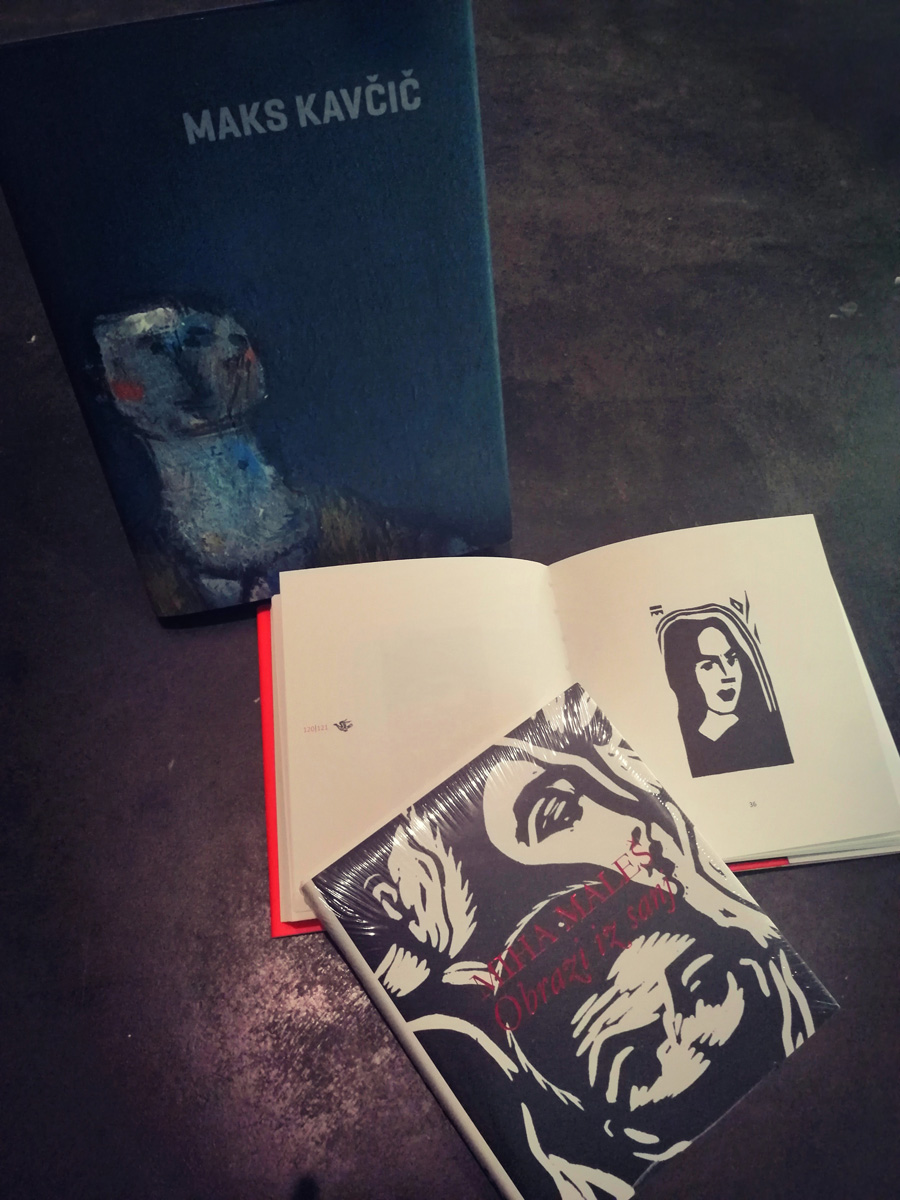 Miha Maleš, Faces of Dream
The poetry published by Miha Maleš in the thirties and at the beginning of the forties can be found today as a real surprise, whether it is his subtle personal reflexive songs or his transcriptions of the songs of old nations, as he himself has called them: from the Indian, African, Oceanian poetry, to the poetry of an ancient Egypt. With them, Maleš established some kind of poetry, which at that time was not present in Slovenia.
In this book, poetry is beeing published along with his cycle of woodcutting Faces of Dreams, created in the years 1923 and 1924. These faces in a few summarized lines record what the artist shows in front of his inner eyes. Some are on the verge of humanity; others are portraying realistic portraits of people who entered Maleš's dream from the contact in everyday life. Some faces have masculine enigmas; some are decomposed to work almost like nightmares, while others appear as beauty echoes of Japanese art, which Maleš loved.
Picture material edited and selected by Breda Illich Klančnik; afterword Miklavž Komelj
Publisher: Založba Pivec
Price: 24,90 €
Maks Kavčič
The monograph on Maks Kavčič (1909-1973), academic painter, scenographer, restorer, pedagogue, was edited and published by the artist's daughter Metka Kavčič with colleagues Meta Gabršek Prosenc and Marko Košan.

Kavčič wrote autobiography between 1960 and 1965, the daughter logically proceeded with this material and upgraded it. Initially, she intended to supplement the biography from the catalog published at Kavčič's retrospective at the Maribor Art Gallery in 1998, but numerous written documents and browsing archives constantly revealed the fragments of his life. Metka Kavčič systematized all of material and was at the same time absolutely rigor in showing the fragmented reality of her father's life. The following are the professional analysis of Kavcic's artistic creation. Meta Gabrèek Prosenc presented Kavčič as a painter, an artist and a teacher during the ripening period 1931-1950, during the period of dialogue with modernism between 1951 and 1960 and the last period from 1961 to 1973, that she addressed; Circle is concluded.
Publisher: Metka Kavčič, Maribor, Grafika Gracer d.o.o., Celje
Price: 50,00 €