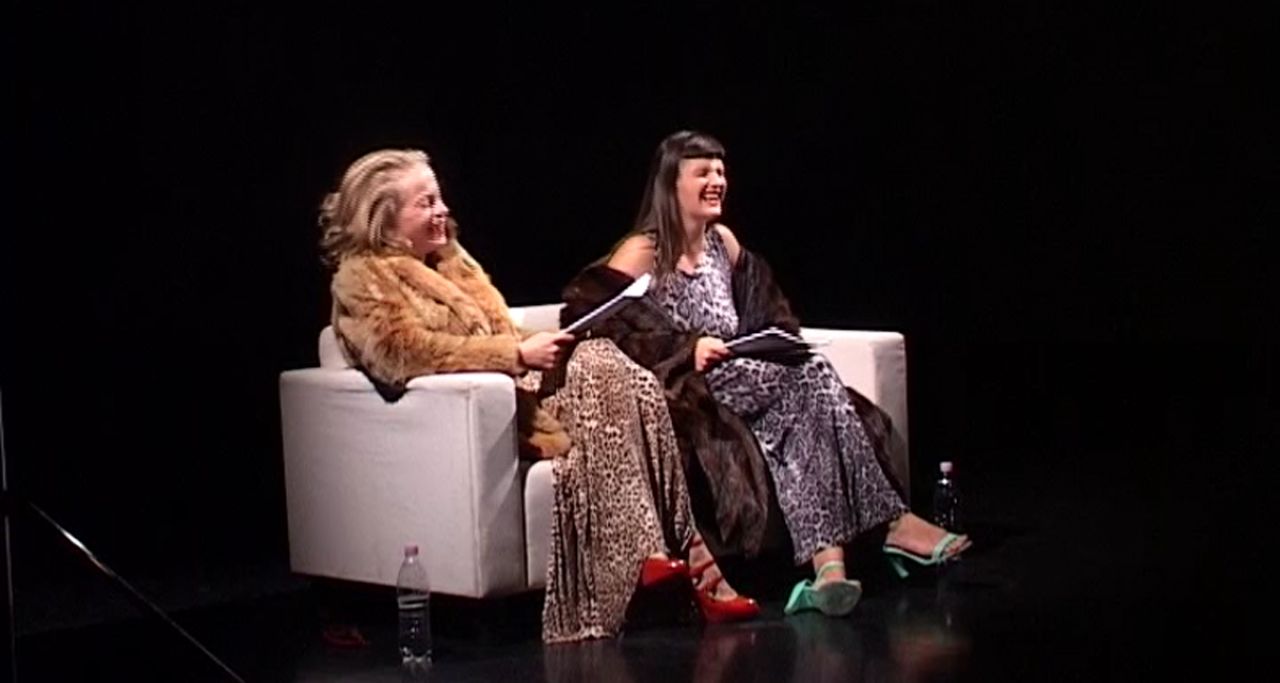 Opening: 5 October 2018 | 18.00 | The Old Power Plant
For a number of years, City of Women festival and Web Museum by Moderna galerija, Ljubljana collaborates in inventory and archiving of the rich contents from the festival's history. The exhibition Transfer | Circuits curated by Lenka Đorojević and Alja Lobnik have selected 35 archival video materials of artists from the field of performing arts who have played a crucial role in the formation of the performative scene and practices (theatre, dance, performances) in the festival's history as well as in the broader cultural environment.
During the festival, from 6 to 8 October 2018, from 3 to 5 p.m. every half-an-hour a guided tour will be conducted by some of the prominent performance art commentators: Pia Brezavšček, Andreja Kopač, Alja Lobnik, Sabina Potočki, Rok Vevar, Jasmina Založnik.
The exhibition presents video materials from performances of: Miljana Babić, Uršula Cetinski, Maja Delak, Leja Jurišić, Barbara Kapelj, Mala Kline, Kolektiv Tatovi podob, Bara Kolenc, Ema Kugler, Barbara Kukovec, Tanja Lazetić, Nina Meško, Andreja Rauch Podrzavnik, Sinja Ožbolt, Jelena Rusjan, Simona Semenič, Katarina Stegnar, Irena Tomažin, Tina Valentan, Lana Zdravković (Kitch), Nataša Živković.
Exhibition curators: Lenka Đorojević, Alja Lobnik
Professional associates: Rok Vevar, Ida Hiršenfelder
Production: Mesto žensk
Co-production: Moderna galerija, Ljubljana in The Old Power Plant
The exhibition is also available online on Web Museum platform.
The Web Museum is designed as an online platform for inventorying, systematisation, digitisation and conservation of audio-visual cultural heritage, providing online access to study materials. It contains artistic practices recorded on video carriers (performances, dance, multimedia works) and documents from exhibitions, lectures, seminars, festivals and conferences. To date, the Web Museum contains an inventory of one thousand items of Museum of Modern Art Ljubljana, City of Women and Kapelica Gallery. As a service activity, it is open for data processing of materials from other organizations.
Production: Museum of Modern Art, Ljubljana
Co-production: City of Women, Kapelica Gallery, The Temporary Slovenian Dance Archives, Rok Vevar
Editor: Ida Hiršenfelder (MG+MSUM)
Editors of the City of Women materials: Jasmina Klančar, Eva Matjašič, Sobodan Malić, Poslovna skupina Griffin
Advisors: Rok Vevar, Alja Lobnik
Design and coding: Vikida, Ana Korenini s.p.
Creative programming: Slavko Glamočanin
Digitisation assistant (2017): Valeria Caldara
Digitisation assistant (2018): Jan Štefan Lebar