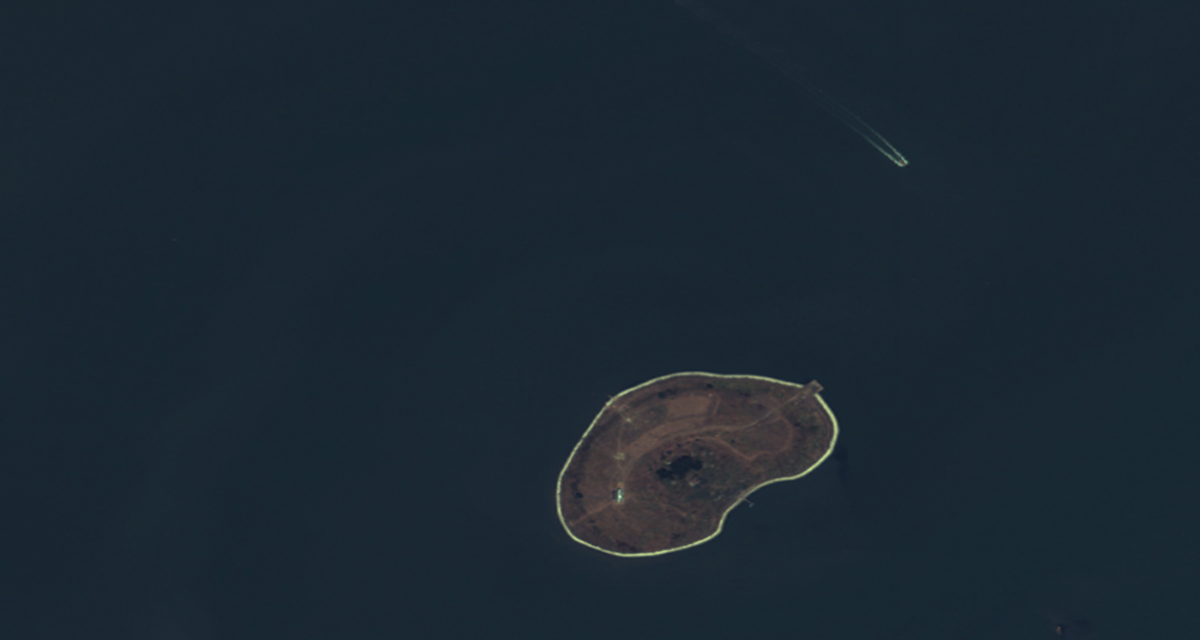 Makrolab markII ex, otok Campalto, Beneška laguna, 2003 (satelitski posnetek)
MARKO PELJHAN TO REPRESENT SLOVENIA AT THE 2019 VENICE BIENNALE
The Commissioner of the Slovene Pavilion, Zdenka Badovinac, has invited artist Marko Peljhan to represent the Republic of Slovenia at the 58th Venice Biennale.
Marko Peljhan will represent Slovenia at the 58th edition of the Venice Biennale, the international exhibition of art due to run from 11 May through 24 November 2019. The director of London's Hayward Gallery Ralph Rugoff has been chosen to be the Biennale's artistic director. In reference to Rugoff's appointment, Biennale President Paolo Baratta says it underlines the fact that the exhibition can "engage the viewers directly with the artworks in such a way that memory, the unexpected, the possible provocation, the new and the different can stimulate their visions, their minds and their emotions, and offer them the opportunity for a direct experience."
Marko Peljhan is an artist and researcher working in and between art, technology and science. His projects, initiatives, and collaborations span a vast area ranging from ecology and social reflection to tactical media, technology, space explorations and geopolitics. In 1994, Peljhan founded the non-profit art institution Projekt Atol, and was a co-founder of the Ljubljana-based new-media laboratory Ljudmila a year later. He first presented one of his best-known projects Makrolab at the Dokumenta 10 in Kassel in 1997. Over the past 25 years his work has been exhibited and won awards internationally at multiple biennials and festivals (Venice, Gwangju, Brussels, Manifesta, Johannesburg, Istanbul), at several ISEA exhibitions, several Ars Electronica presentations and in major museums, including MoMA PS1, New Museum of Contemporary Art, ICC NTT Tokyo, YCAM Yamaguchi, Van Abbemuseum in Eindhoven, and the Garage Museum in Moscow, among others. He was the first Slovene artist to win the Golden Nica prize at Ars Electronica in 2001 for the Polar project, produced together with the German artist Carsten Nicolai. In collaboration with American-Canadian artist Matthew Biederman Peljhan has also been coordinating the Arctic Perspective Initiative since 2008, an art/science/tactical media project focused on the global significance of the Arctic's geopolitical, natural and cultural spheres, and presented at their exhibition Coded Utopia in Moderna galerija in Ljubljana in 2011. In addition, Peljhan also works as Professor at the University of California Santa Barbara, holding joint appointments with the Department of Art and the Media Arts & Technology graduate program. He has been a board member and international coordinator of the SPACE-SI Centre of Excellence for Space Sciences and Technologies in Slovenia, and has been actively involved in space and aeronautics research and space culturization since 1998. In the radio spectrum he is known as S54MX.
Igor Španjol, a curator of contemporary art at Moderna galerija Ljubljana / Museum of Modern Art, will curate Peljhan's presentation. The Slovene Pavilion will likely be hosted by the Arsenale, the main venue of the central biennial exhibition.