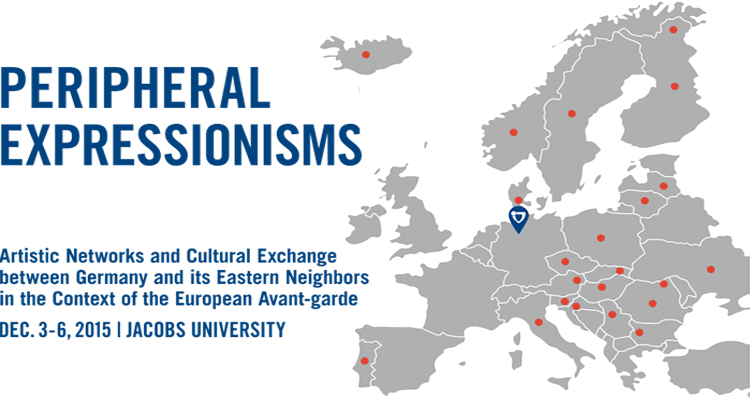 "Peripheral Expressionisms" is an interdisciplinary research project that focuses on the transnational formation, dissemination, and reception of German Expressionism in other European regions such as Scandinavia, the Baltics, Central and Eastern Europe, the Balkans, and the Iberian Peninsula in the first half of the twentieth century. The project brings together scholars in the fields of art history, literary and cultural studies at universities, research institutes, and museums in order to establish a professional network for exploring the artistic relations, cultural encounters, and collaborative networking strategies that have shaped modernist art practices in Europe throughout the first half of the twentieth century and been fundamental in creating a European cultural identity. The workshop is funded by the Representative of Culture and Media of the Federal Government of Germany and Jacobs University, Bremen. The speakers explore the associations with which Expressionism was discussed in the particular European art centers and cultural regions and examine new, alternative forms of community and collective identity-making that have stimulated artistic practice and cultural communication across Europe, and thus formed a basis for cultural interaction, artistic cooperation and competition, and intellectual exchange. By focusing on the spread of Expressionism in the peripheral regions of continental Europe, the symposium examines in depth this specific form of cultural encounter over space and time, but also assesses the political, social, and cultural dimensions of the formation of Expressionism as instigators of cultural knowledge transfer.
JACOBS UNIVERSITY | Bremen gGmbH, Campus Ring 1, 28759 Bremen, Germany
More information | www.expressionisms.com
Pre-registration until November 30, 2015 | expressionisms@jacobs-university.de
Registration | €10 per day or €15 for both days (Student reduced fee of €5 per day or €7,50 for both days)
PROGRAMME
Thursday, December 3, 2015 (only for project participants)
Arrival until 17:00
17:00-17:30 Opening of the workshop by Isabel Wünsche, Jacobs University, Bremen
17:30-19:00 Presentation of the results of the research project "Avant-Garde Networks and Cultural Exchange between Germany and its Eastern Neighbors, 1910-1930" and discussion of the main research questions of the workshop
19:00-21:00 Dinner Reception at the University Club
Friday, December 4, 2015
Paper Presentations: Case Studies
Session 1: Central Europe
09:45-10:00 Opening by Isabel Wünsche, Jacobs University, Bremen
10:00-10:30 "Prague – Brno: Expressionism in Context. What is Expressionism – in Bohemia?", Marie Rakušanová, Charles University, Prague, Czech Republic
10:30-11:00 "Kosice Modernism: A 1920s Phenomenon and Antal/Anton Jaszusch's Expressionism", Zsófia Kiss-Szemán, Bratislava City Gallery, Bratislava, Slovakia
11:00-11:15 Coffee Break
11:15-11:45 "German Expressionism in Hungary", András Zwickl, Museum of Fine Arts – Hungarian National Gallery, Budapest, Hungary
11:45-12:15 Discussion
12:30-13:30 Lunch
Session 2: Poland and Baltic States
13:30-14:00 "Poznań Expressionism in the Orbit of the German and International Avant-garde", Lidia Głuchowska, University Zielona Góra, Poland
14:00-14:30 "Expressionism in Lithuania", Giedrė Jankevičiūtė and Laima Laučkaitė, Lithuanian Institute of Cultural Research, Vilnius, Lithuania
14:30-15:00 "Expressionist Originality in Latvian Art: Between Confirmation and Destruction", Ginta Gerharde-Upeniece, Latvian National Museum of Art, Riga, Latvia
15:00-15:30 Discussion
15:30-15:45 Coffee Break
Session 3: Scandinavia
15:45-16:15 "Finnur Jónsson and Expressionism in Iceland", Margrét E. Ólafsdóttir, Reykjavík Academy, Iceland
16:15-16:45 "Art and Politics in Nordic Expressionism", Torben Jelsbak, University of Copenhagen, Denmark
16:45-17:15 "Expressionisms in Sweden: Anti-realism, Primitivism, and Politics in Painting and Print", Margareta Wallin Wictorin, Karlstad University, Sweden
17:15-17:45 Discussion
17:45-18:00 Coffee Break
18:00-18:30 "Expressionism in Norway", Øivind Storm Bjerke, University of Oslo, Norway
18:30-19:00 "Nationalism, Transnationalism, and the Discourses on Expressionism in Finland: From the November Group to Ina Behrsen-Colliander", Tutta Palin, University of Turku, Finland and Timo Huusko, Ateneum Art Museum – Finnish National Gallery, Helsinki, Finland
19:00-19:30 "John Savio – The First Educated Sámi Visual Artist and Expressionistic Woodcut Maker", Tuija Hautala-Hirvioja, University of Lapland, Finland
19:30-20:00 Discussion
20:00-22:00 Dinner
Saturday, December 5, 2015
Paper Presentations: Case Studies
Session 4: Eastern and Southeastern Europe
09:30-10:00 "Expressionism in the Ukraine", Iryna Mishchenko, independent scholar, Kiev, Ukraine
10:00-10:30 "Tokens of Identity: Expressionisms in Romania before 1924", Erwin Kessler, Institute of Philosophy, Romanian Academy of Sciences, Bucharest, Romania
10:30-10:45 Coffee Break
10:45-11:15 "The Position of the Avant-garde under Foreign Rule in the Interwar Period: The MagazinesDer Nerv (Bukovina/Romania, 1919), Periszkóp (Hungary/Romania, 1925/1926), and MA(Hungary/Vienna, 1916-1925)", Lia Lindner, independent scholar, Augsburg, Germany
11:15-11:45 "Expressionism – abroad, at home, and imported: Examples from Bulgarian Graphic Art until the mid-1920s", Irina Genova, New Bulgarian University, Sofia, Bulgaria
11:45-12:30 Discussion
12:30-13:30 Lunch
Session 5: Southeastern and Southern Europe
13:30-14:00 "On New Art and its Manifestations: Rethinking Expressionism in the Visual Arts in Belgrade", Ana Bogdanović, University of Belgrade, Serbia
14:00-14:30 "From Anxiety to Rebellion: Expressionism in Croatian Art", Petar Prelog, Institute of Art History, Zagreb, Croatia
14:30-15:00 "Expressionism in Slovenia: The Uses of a Term", Marko Jenko, Moderna Galerija, Ljubljana, Slovenia
15:00-15:30 Discussion
15:30-15:45 Coffee Break
15:45-16:15 "German Expressionism in Italy: Contacts and Co-operations between Herwarth Walden'sDer Sturm, the Berlin Novembergruppe, and the Futurist Circles of Florence and Rome", Irene Chytraeus-Auerbach, Internationales Zentrum für Kultur- und Technikforschung (IZKT), University of Stuttgart, Germany
16:15-16:45 "Hein Semke: German Expressionism in Portugal. Or: Does Portuguese Expressionism Exist?", Nina Blum de Almeida, Jacobs University, Bremen, Germany
16:45-17:15 Discussion
18:00-20:00 Dinner
Sunday, December 6, 2015 (only for project participants)
9:30-11:00 Wrap-up of the Workshop
11:00-11:30 Coffee Break
11:30-13:00 Discussion of the book publication, further collaboration, information sharing, and a possible exhibition project
FUNDED BY the Federal Government Commissioner for Culture and the Media and Jacobs University, Bremen.