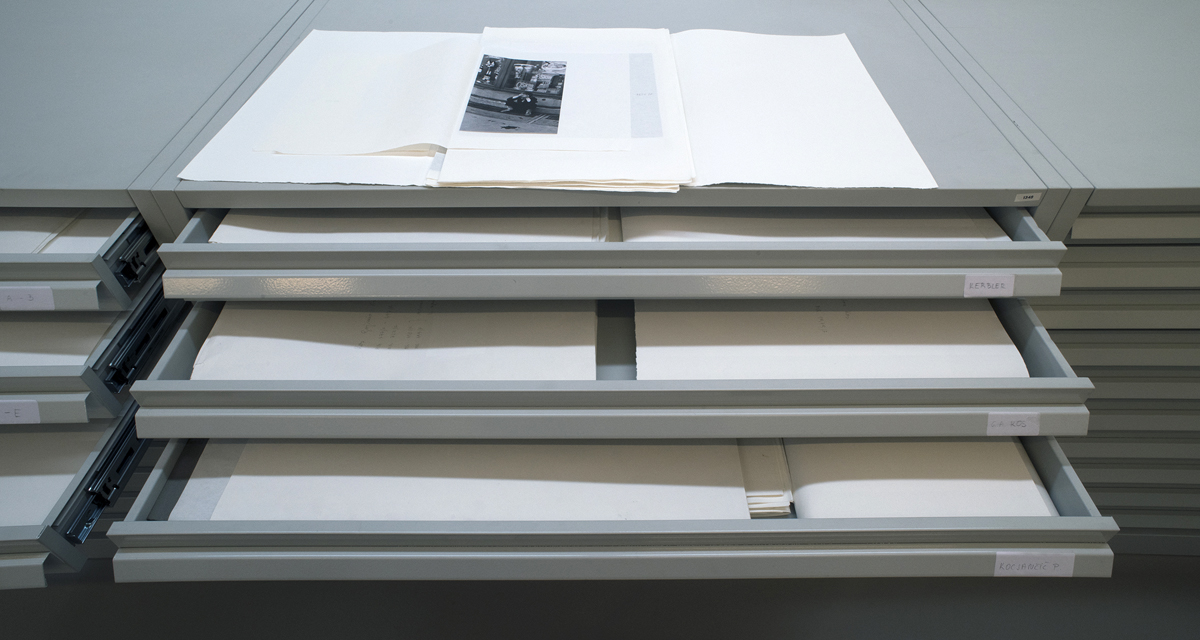 COLLECTION OF PHOTOGRAPHS LINK.
Moderna galerija's (MG) photographic collection was started in 1991, at the same time as MG's Photography Department. Prior to that, relevant material was acquired through donations or bequests by painters who were also amateur photographers (such as Rihard Jakopič, Matej Sternen, and Gojmir Anton Kos), and was kept among materials in hemeroteque or in MG's Photo Archive.
With the founding of the photographic collection, MG began systematically collecting, keeping and researching works by Slovene photographers of the 20th and now 21st centuries. Through purchases and donations, we have so far acquired approximately 4,000 prints by 150 photographers, and several thousand negatives. The contents of the collection are closely linked to the research of the Photography Department, as can be seen in the catalogues of the exhibitions staged by the Department, while the rhythm and the extent of new acquisitions, which increasingly include works by contemporary photographers, are conditioned by the resources the Ministry of Culture of the Republic of Slovenia earmarks for such purchases.
The collection is notable for including extensive and representative bodies of work by Leon Dolinšek, Tomaž Gregorič, Franc Ferjan, Stojan Kerbler, Fran Krašovec, Janez Marenčič, Slavko Smolej and Lojze Spacal, whose exhibitions have been staged, and for numerous works by other outstanding representatives of 20th century photography in Slovenia: Božidar Dolenc, Ivan Dvoršak, Stane Jagodič, Zmago Jeraj, Peter Kocjančič, Jože Kološa - Kološ, Milan Pajk, Tone Stojko. Other important artists of middle and especially younger generations are represented with individual works or series, among them Dragan Arrigler, Goran Bertok, Boris Gaberščik, Lado Jakša, Tanja Lažetić, Borut Peterlin, Tihomir Pinter, Tone Rački, Bojan Radovič, Klavdij Sluban, Aleksandra Vajd and others who have contributed to the treasury of photography in Slovenia.
Most of the holdings of the photographic collection have been digitized, while the prints and the negatives are kept in accordance with current museum standards.